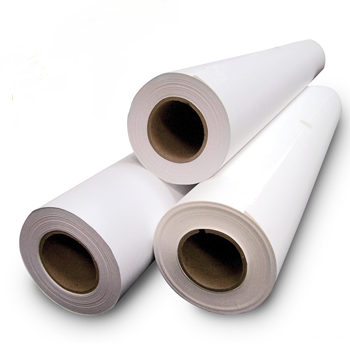 Transfer Adhesive - RemiMount T
RemiMount T is a 3 mil,carrier free pressure sensitive adhesive (glue) utilizing a moisture stable release liner. It is also referred to as a Transfer Adhesive. It is all glue, coated on a silicone release liner. These are custom slit sized rolls ideal for creating labels, stickers and decals.  It widely used for the creation of decals, stickers and labels. It is ideal for mounting or adhering stickers or labels to a variety of porous or irregular substrates. It will also adhere to all paper substrates as well as a variety of harder to stick to, low-surface energy substrates like polystyrene and plastic surfaces. (LSE)
Product Description:
A 3-mil high initial tack, unsupported acrylic permanent pressure-sensitive film, cast on a silicone-sensitive release liner.
Product Use:
This product was developed for use primarily for Low Surface Energy (LSE) bonding. The high performance Acrylic Adhesive provides bonding to a wide variety of LSE materials and many types of foams including Urethane. this product has excellent peel and shear properties.