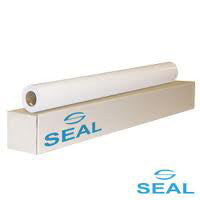 Gudy® Window Adhesive by Seal
Gudy® Window by Seal. Now you can mount posters to glass or clear acrylic panels with a simple hand squeegee. Gudy® Window is a double-sided mounting adhesive that is designed for bubble-free face mounting. This product consists of a 1 mil polyester film with an aggressive adhesive on one side and a low-tack removable adhesive on the other.  The special release liner is produced with micro-grooves, allowing for easy evacuation of all air bubbles. It is ideal for bubble-free manual applications and can be easily removed without residue.
Comparable Products with an Air Egress Release Liner.
Air Egress Window Mount