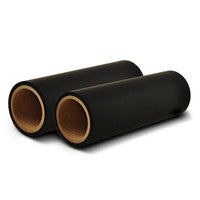 Black Soft Touch Laminate
Black Soft Touch® Laminating Film features an intense black, soft touch finish.The velvet, black matte finish, make it ideal for applications that require an continuous solid black finish. It is ideal for applications that require a continuous black gradient level, to insure each box is an exact duplicate. Most inks/toners have a "graying" effect in a long production run, this film will eliminate it. It is an exceptional product for prestigious and premium applications in search of a touch distinction. This film is printable, glue-able and foil stamp-able. It is ideal for use in the custom packaging industry as well as for high-end book covers, packaging prototypes, corporate brochures, product branding as well as a variety of other applications. It is also available in metalizzed, white and an intense red finish.
Product Details
FEATURES
Offers a high intensity black finish, consistent throughout all the sheets.
No need for multiple hits of black.
Ideal for jobs that require an enormous amount of a solid black coverage.
It is a glueable, stampable and printable film.
Printable by offset UV, traditional offset, screen printing and digital. We do suggest testing this prior to running a job.
Recommended running temperature range: 220 - 250 ºF (105º-120 ºC)
Applications Include:
Luxury folding carton (perfumes, spirits, jewelry, luxury bags), post cards, brochures, business cards, luxury paper labels.