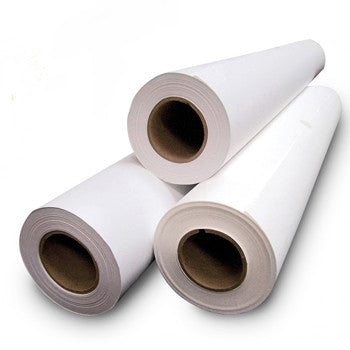 DryMount Tissue
RemiMount DM is a premium quality, multi-purpose 3.0 mil (75 micron) dry mounting tissue. This permanent/repositionable, breathable tissue is recommended for bonding resin-coated photographs, posters and printed materials to most smooth surface substrates. The heat-activated adhesive will bond at temperatures as low as 185°F (85°C).

SUGGESTED APPLICATIONS:
RemiMount DM  is suitable for use in all makes of dry mounting and heat activated vacuum presses. RemiMount DM is recommended for bonding RC photographic paper and printed materials to smooth surfaces. Ideal for reprographics shops, legal artwork, and frame shops. It has the ability to be re-heated and removed, carefully, with a tacking iron. Also available in cut sheets for ease of use.
Product Details
RemiMount DM uses a paper rather than a glassine base, is breathable and heat reversible. It is manufactured without the use of solvents and does not require solvents for reversibility. It activates at 168 -172 degrees F with a dwell time of 2-3 min. The polymer for this product was selected to allow the lowest temperatures to be used and yet provide sufficient hot tack for mounting and excellent cold adhesion. RemiMount DM can be removed at 190-210 degrees F depending on the size of the picture. You will use higher temperatures for larger pictures using your judgement from experience and testing. This product will adhere well to plastic coated materials (RC surfaces) that are not subject to severe curling or rippling with heat. If curling or rippling occurs, merely allow to cool in press for 10 minutes. The following operating conditions are recommended:
TEMP DEG F
DWELL
PHOTOGRAPHS AND COATED PAPERS
168
3-4 MIN
PHOTOGRAPHS AND COATED PAPERS
168--172
2-3 MIN
BOND PAPER AND COATED LITHO
172--176
1.5-2 MIN
BOND PAPER AND OTHER FIBROUS MATERIAL
178
45 SEC
GENERAL NOTES:
Always experiment with any drymount product before using it for a permanent framing application. Be confident that you are familiar with the product, its applications and operating characteristics. Always wipe down release paper with a clean cloth. Some distributors recommend this after each application for any heat seal product. Press temperatures sometimes vary considerably from thermostat readings. Try to determine the actual operating temperature. Always experiment first with tissue and medium and keep careful permanent notes.
TECHNICAL TIPS:
1. Heat reversible adhesive tissues should not be used at more than 10 degrees above recommended activation and should not be kept under heat for more than 3 minutes for typical fibrous materials and 4 minutes for surfaces that have non-porous coatings. The concept in using heat reversible tissues is to maintain the highest possible viscosity of the adhesive on the particular tissue by using the minimum activation temperature, resulting in the greatest hot tack and shortest cooling set time.
2. The newer type dry mount tissues which do not require solvent type manufacturing utilize thermoplastics which are generally not easily dissolved by solvents. Always test products in advance to determine their application latitude.