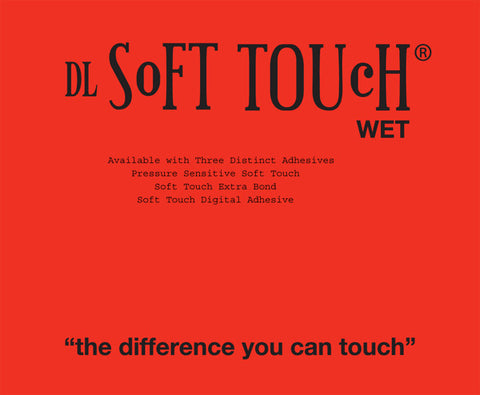 Soft Touch Laminating Film for Labels
Our Soft Touch laminating film for labels is custom coated on a made to order basis. Soft Touch®  Laminating film for labels features a premium soft velvet matte finish and a high tack pressure sensitive adhesive. This is the same product as our Soft Touch® laminating film , however it is custom coated and custom slit for narrow format labels. As this is a custom, made to order product, please contact us for a custom quote. Minimums required.
Product Details
GENERAL DESCRIPTION: Clear matte, corona treated polypropylene film. Polypropylene is Ideal for interior applications. This film is printable, glue-able and foil stamp-able due to its high dyne level.
APPLICATIONS: Polypropylene films have been designed for applications such as flat packaging, book covers, labels, corrugated boxes, business cards, holiday cards and a variety of others requiring a thin, high quality matte finish.
ADHESIVE: .80 mil of permanent acrylic pressure sensitive adhesive that has been formulated for most applications. LINER: A 40 lb. white glassine release liner protects the adhesive